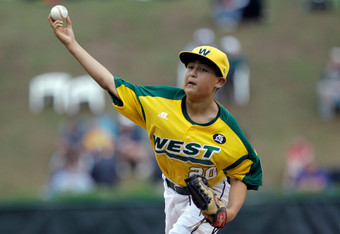 By Richard Langford (Featured Columnist) on August 3, 2011
California's dominant pitching staff left little hope for opponents in the 2011 Little League World Series. It is the main reason why Ocean View is the 2011 Little League World Series Champions.
California allowed just four runs in six games. Three of the six games were shutouts.Two of the games they only allowed one run. And one of those didn't come until extra innings, when Montana handed California their only loss of the tournament with a walk off home run.
California only allowed a team to put up a crooked number in one game. That was in the US Championship. Montana scored a second run late in that one after California already had a comfortable 11-1 lead.
Haggen Danner, Nick Pratto, Braydon Salzmen were the three starters used in the LLWA. All are good enough to be considered the staff's ace.
Pratto stated in the rematch against Montana and was efficient in striking out ten. Danner was dominant the game before that as he shutdown Pennsylvania by striking out 12. And Salzmen went the distance in a dominant performance in the finals.
This staff was just flat out dominant. All three of these pitchers were throwing heat. Danner has the best stuff, but not the best accuracy. He had a tendency to have moments of wildness. Of course, just a little wildness is not always a bad thing. And it very well may have attributed to him getting over 20 strikeouts in two starts.
California was a joy to watch on defense. And they were rewarded for their brilliance with the 2011 LLWS title.
Stay Tuned to Bleacher Report's Baseball Page for all the latest news and analysis from around the sport.
—Richard Langford
Pointe Viven - Jesse Bluma. All rights reserved.